THIS POST CONTAINS AFFILIATE LINKS
Welcome to 15 Minute Friday - Week 19!
Have you ever wondered how long it would take to make a bento lunch? My fellow bento bloggers and I often receive inquiries regarding the amount of time it takes to make the lunches we share on our blogs. The good news is that making fun bento lunches doesn't have to take longer than a typical lunch!
Do you have a fun lunch that can be made in 15 minutes or less? If so, feel free to link up below! Whether you are adding your lunch or not, please visit some of the linked up lunches and be sure to leave comments. We bloggers LOVE that! If you are adding your lunch, please include a link back to this page. Feel free to grab my button!
My Fifteen Minute Lunch:
What's in the Box?
Pumpernickel Bread Bats, Colby-Jack Bats
Vegetarian Sushi Rolls, Tomatoes, Watermelon Radish, Celery
Grapes, Berries & a Candy Corn Treat
Lunchbox Love Note (Halloween Series)
Bento Tools: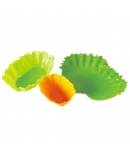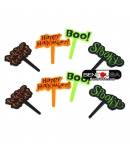 Link up your lunch: