THIS POST CONTAINS AFFILIATE LINKS
Confession time...some days I just don't feel like making lunch. Maybe I'm short on time; maybe I'm not feeling very creative; maybe I'm just feeling lazy or burnt out (I've been feeling a lot of that lately). Whatever the reason, on those days I am so grateful for a few bento tools I have that I call my bento cheats! They basically do the work for me. I have a new "cheat" that I just got last week, and it's fun and easy to use.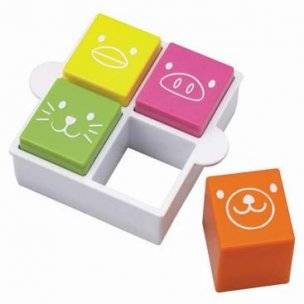 This new tool is a sandwich cutter and press that turns a plain sandwich into something cute and fun in no time! One of my favorite things about this tool is that it uses almost the entire slice of bread. The only thing it removes is the actual crust. I always save my bento scraps for use in other recipes, but I love that this cutter limits the bread scraps and gives my children more food to actually eat!
Mini Sun Butter & Pear Preserves Sandwiches
Tri-Color Baby Bell Peppers, Baby Cucumber