THIS POST CONTAINS AFFILIATE LINKS
I was so excited a couple weeks ago when I received my adorable new CuteZCute Baby Bento Buddies - Baby Penguin bento box!! It is by far one of my favorites boxes ever. I mean look at it. Could it possibly be any cuter? I sure don't think so!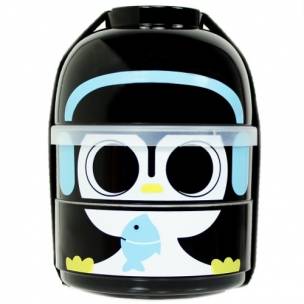 I've been wanting a round bento box for almost a year, and I'm glad I waiting for this one. It is just perfect! I know I will use this box often, and to start out I wanted to stick with the penguin theme.
Biscuit Sandwich w/ Scrambled Eggs & Canadian Bacon
Colby-Jack Cheese Cubes, Baby Cucumber Slices, Grape Tomatoes, Red Plum