THIS POST CONTAINS AFFILIATE LINKS
This past spring, I was browsing my local Sanrio shop when I first saw their Sugarbunnies characters. They had the whole set of them on sale for Easter and I instantly fell in love with them. I immediately knew I wanted to make a Sugarbunnies bento, and I finally got one made today!
Pink Rice (colored with natural vegetable-based dye)
Radish & Nori Accents (*see note)
Lettuce, Celery, Carrots, Cherry Tomatoes
Yellow & Orange Bell Peppers, Cucumber,
Steamed Broccoli
*The blue eyes are radish colored with a regular food coloring pen. I did not have natural blue food coloring on hand. I prefer not to use artificial dyes, but this is all I had available today, as I decided on the spur of the moment to make this bento without planning in advance.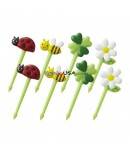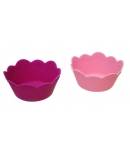 I wish I'd had these for today's bento: