THIS POST CONTAINS AFFILIATE LINKS
Welcome to 15 Minute Fridays - Week 10!
It is hard to believe this is my 10th week hosting this linky. I am so excited about all of the fun and wonderful ideas that have been shared so far and hope you will continue to link up those fast lunches!
In case you are a new reader, 15 Minute Fridays is a place to get ideas for quick and easy lunches. My fellow bento bloggers and I often receive inquiries regarding the amount of time it takes to make the bento lunches we post on our blogs. Bento lunches don't have to take much more time to pack than a standard lunch!
Thank you again to everyone who linked up last week. I loved seeing your lovely lunches.
Do you have a cute and easy bento that can be made in 15 minutes or less? If so, feel free to join in! It's simple. Copy the URL of your blog post (not your home page) and enter it into the linky below. Click on the "Add Your Link" button to add yours to the collection and follow the steps.
I would love for you to include a link back to my blog.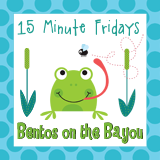 My 15 Minute Lunch:
What's in the Box?
Lettuce, Turkey, Provolone & Tomato Roll-Ups
Tomatoes, Carrots, Celery, Snap Peas, Purple Cauliflower
Whole Grain Toast Squares
Strawberries, Blueberries & Blackberries
Supplies I used or similar: