Princess has been wanting to make a bento for awhile, and today was the day! She made this bento almost exclusively by herself. I assisted only to cut a few items and to show her how to make the onigiri. I am so proud of what she created!
Lettuce, Tomato, Snap Peas, Heirloom Carrots, Asparagus
Cheese Cubes, Rotisserie Chicken, Blood Orange
Be sure to check out a bunch of other awesome kid creations by clicking on the button below!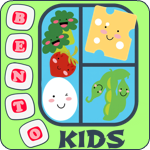 Then go HERE to see tons of Valentine lunch ideas!